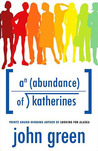 My rating: 3 of 5 stars
I have always wanted to read An Abundance of Katherines, and now I have and I am quite disappointed. It may be because I have great expectations for this book after reading Paper Towns and Looking for Alaska.
I can't help but notice that John Green is sort of 'recycling' characters and elements. The personality of his characters are almost the same, I do not see something unique. He just changes the name and gives the character something. Say for instance, Colin likes to anagram while Pudge likes last words. But then, John Green's characters are relatable. You can see yourself with them. You can feel their struggle. The characters feel real.
I love the build-up of the story, though. The story flows smoothly and is very relaxing. Some things are predictable and some are not – like Katherine XIX.
But I did not like the ending. I feel like there is something missing. I did not get the satisfaction that I want. I feel like it's not yet the end but it was.
Overall, An Abundance of Katherine is a good read. Not great though. It is a good book when you want to relax. But if you want a book that will make your heart beat faster and bring you to a new level of emotion, this is not it.